CAN (Controller Area Network) is a serial bus system especially suited to structure intelligent industry devices networks and build smart automatic control systems. The following figure shows the application architecture for I-7530/I-7530-FT modules. The PC can be the CAN host, monitor or HMI to access/control the CAN device through the CAN network by the I-7530/I-7530-FT Converters. The programmable RS-232 device (For example: I-8411/I-8431/I-8811/I-8831/W-8031/W-8331/W-8731 embedded controller) can use the serial port to connect to the CAN network via the I-7530/I-7530-FT modules. In order to use the CAN network with traditional RS-232 devices, we provide a way to achieve this purpose. The I-7530/I-7530-FT are designed to unleash the power of CAN bus via RS-232 communication method. It accurately converts messages between CA
N and RS-232 networks. This module let you to communicate with CAN devices easily from any PC or devices with RS-232 interface.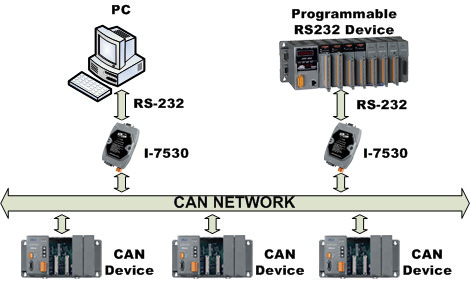 Moreover, we expand the functionalities of I-7530/I-7530-FT for some special application. In pair connection mode, I-7530/I-7530-FT can be used to connect PC with other RS-232 devices at the same time. The application architecture may be as follows.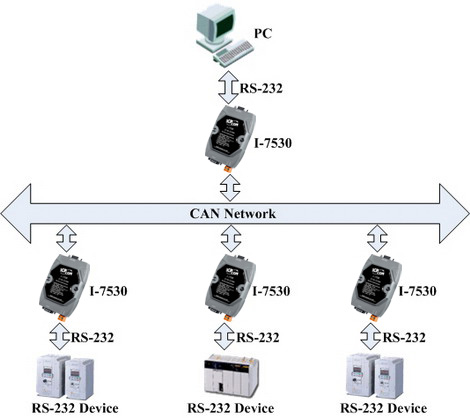 3000V isolation on CAN side (only I-7530)
The CAN port of I-7530 is an isolated with 3000V isolation.
This isolation can protect the local RS-232 devices from the damage
signal coming from CAN network.

Watchdog inside
The watchdog is a hardware reset circuit to monitor the operation status.
When working in harsh or noisy environment, the I-7530/I-7530-FT may
shut down by the external signal. The circuit may let the I-7530/I-7530-FT
to work continuously and never halt.

Power and Error indicator display
There are two indicators on the I-7530/I-7530-FT.The power indicator can
help user to check whether the I-7530/I-7530-FT is standby or
transmitting/receiving messages. The Error indicator will be turned on
when some errors occur on the I-7530/I-7530-FT.


• Control System• Building Automation• Factory Automation• Distributed data acquisition
The PM-213x-CAN series power meter provides the CAN bus interface for users to easily gather the real-time power consumption information in their CAN applications. The PM-213x-CAN provides the Auto-Response mode which responses messages at regular intervals automatically. It makes the communication more efficient when collecting a lot of remote power information. The polling mode offers the precise information of every step required by the monitors. In addition, the PM-213x-CAN also owns the arbitration mechanism which can avoid data collision and error detection.

NXP TJA1042 CAN transceiver

Follow CiA CAN 2.0B specification

Support Auto-Response mode and Polling mode

Support baud rate 125 kbps, 250 kbps and 500 kbps

Support up to 255 nodes on the CAN network

2500 Vrms isolation on CAN port

4 kV ESD protection on CAN port

CAN bus provides better capability in noise suppression

Support arbitration mechanism to avoid collision

Support error detection and error correction on CAN bus

Compatible with CAN specification 2.0A and 2.0B

Fully compatible with ISO 11898-2 standard (for I-7530)

Fully compatible with ISO 11898-3 standard (low speed fault tolerance) (for I-7530-FT)

Support various baud rate from 10K bps to 1M bps

Jumper for 120 Ω terminator resistor (for I-7530)

Software configurable CAN and RS-232 communication parameters

Power, data flow and error indicator for CAN and RS-232

Watchdog inside

Support transparent communication mode

1000 frames in CAN received buffer and 900 frames in RS-232 received buffer

CAN bus Baud rate configuration

CAN acceptance filter configuration

CAN 2.0A or 2.0B specific selection

RS-232 Baud rate and data bit setting

RS-232 responded selection

Easy test to transmit/receive can messages

Setting for I-7530 communication mode (normal mode or pair connection mode)

It has a CAN message field which can display the receiving CAN messages in Decimal or HEX mode.

Can display the timestamp of each received CAN message.

Users can change the display mode, up-down, down-up or stop.

It can count the number of received CAN messages.

Data Log : It can save the CAN message as " txt " file.

Has CAN ID filter function.

Can send CAN message to CAN BUS according the defined interval time.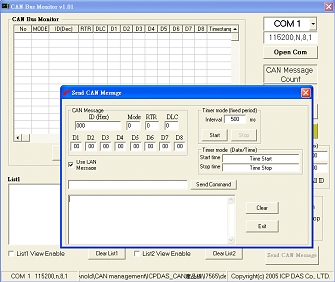 There are various communication interfaces among the CAN devices like PCI CAN board, Ethernet series and RS-232 series CAN module. According to different purpose of users' projects, the users maybe need to choice different CAN products. Because of this situation, the programmer should develop different communication program to handle different CAN device. For example, the user should develop "Socket Client" to communicate with I-7540. When using I-7530, the users need "UART" technique to communicate with it. Nowadays, ICP DAS develop the Virtual CAN technique. The Virtual CAN driver is the excellent tool for users. It transforms whole CAN devices into Virtual CAN port. And then it generates Virtual CAN port like "VxCAN 1" or "VxCAN 2". The users could send and receive CAN message by appointing the Virtual CAN port number. The users don't need to care about what kind of CAN device which is used.