Internet communications using TCP/IP is increasing in the industrial sector. Using Ethernet for network in industrial area is appealing because the required cabling is already installed. The CAN-Ethernet Gateway from ICP DAS is a solution that enables CAN networks to be coupled together over the Internet/Ethernet, whereby remote monitoring and control is possible. The CAN-Ethernet Gateway controls networked communication and makes a transparent CAN-based application interface available to the user.
The device supports a transparent, protocol-independent transfer of the CAN messages, thus allowing its implementation into a wide range of possible applications. Furthermore, the CAN-Ethernet Gateway can be used with various higher layer CAN protocols (e.g. CANopen, DeviceNet or other proprietary protocols). The following figure shows the application architecture for CAN-Ethernet Gateway .
Furthermore, I-7540D also can be used as Ethernet to CAN/RS-232/485 Device Server. The Device Server is an appliance that network enables any device with a serial communication port. By virtue of its independent operating system, protocol independence, small size and flexibility, Device servers are able to meet the demand of virtually any network-enable application. Most devices don't have network ports. I-7540D allows those devices to become connected to the network.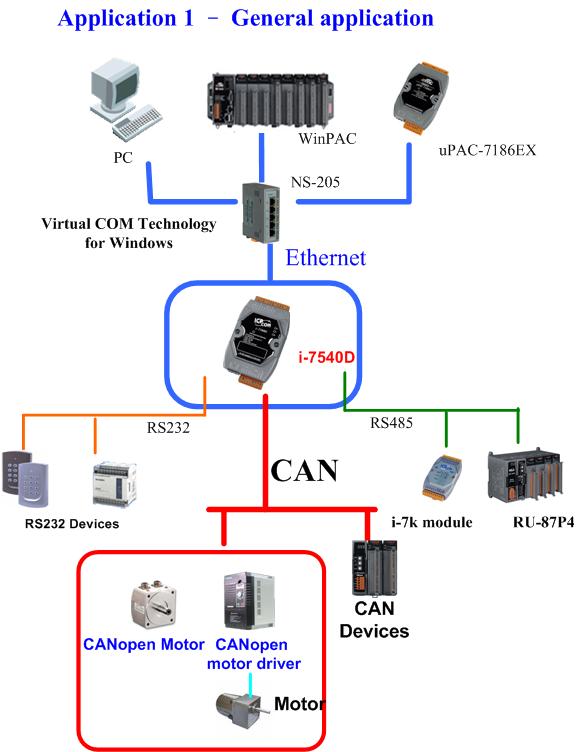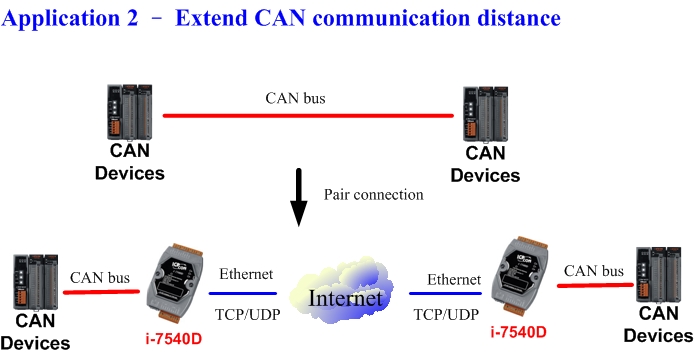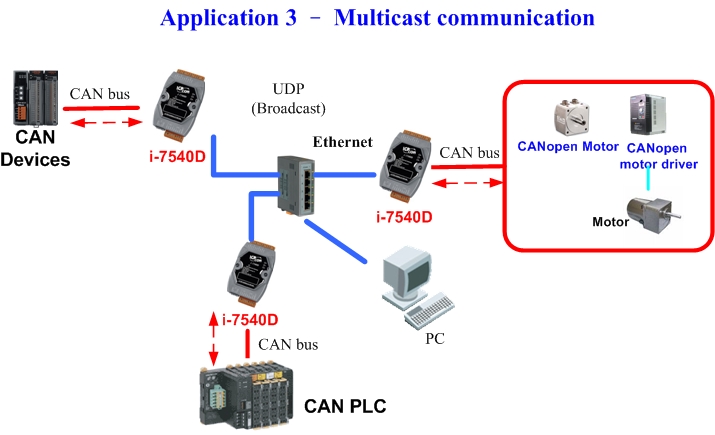 •Factory Automation
•Building Automation
•Home Automation
•Control System
•Monitor System
•Vehicle Automation

The VxComm technology can be used to simulate COM/CAN ports of the I-7540D to become a COM port of PC . With the help of VxComm driver, users can access the remote COM/CAN ports of the I-7540 just as them would access the PC's COM port. The block diagram of data processes in I-7540D is given as follows: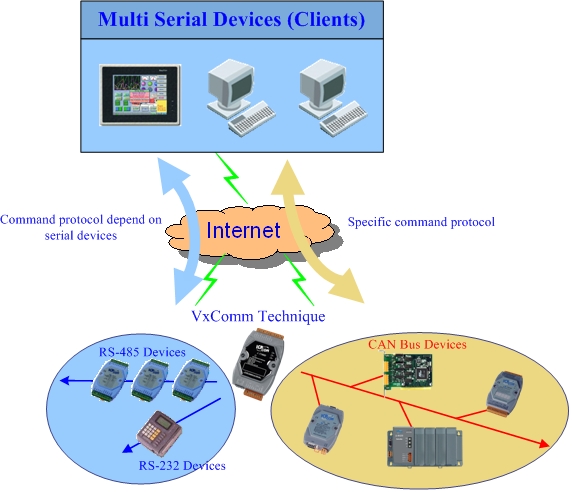 The PM-213x-CAN series power meter provides the CAN bus interface for users to easily gather the real-time power consumption information in their CAN applications. The PM-213x-CAN provides the Auto-Response mode which responses messages at regular intervals automatically. It makes the communication more efficient when collecting a lot of remote power information. The polling mode offers the precise information of every step required by the monitors. In addition, the PM-213x-CAN also owns the arbitration mechanism which can avoid data collision and error detection.

NXP TJA1042 CAN transceiver

Follow CiA CAN 2.0B specification

Support Auto-Response mode and Polling mode

Support baud rate 125 kbps, 250 kbps and 500 kbps

Support up to 255 nodes on the CAN network

2500 Vrms isolation on CAN port

4 kV ESD protection on CAN port

CAN bus provides better capability in noise suppression

Support arbitration mechanism to avoid collision

Support error detection and error correction on CAN bus

80186-80 Embedded CPU, or compatible
Ethernet Protocols, TCP,UDP,IP,ICMP,ARP
10/100 Base-TX Ethernet Controller
Reloadable Operating Software
Message transmitted by using TCP/IP protocol
Diagnostics
COM driver support interrupt & 1K QUEUE Input & Output buffer
Support one RS-232 port, one RS-485 port and one CAN port
2500Vrms photo-isolation protection on CAN side.
Jumper select 120Ω terminator resistor for CAN channel
Phillip 82C 250/251CAN Transceiver
Support both CAN specification 2.0A and 2.0B.
Max transmission speed up to 1M bps for CAN and 115.2kbps for RS-232 & RS-485
Max transmission distance of CAN over 1000m (follow CAN specification)
Built-in self-tuner ASIC controller on RS-485 port
7-segment LED display.
Software configurable CAN and RS-232 communication parameters
Firmware updated from COM1 or Ethernet port
Support Web Configuration
Support maximum 25 Ethernet clients connection
Support for Virtual COM technology

IP 、 Gateway 、 Mask configuration

CAN bus Baud rate configuration

CAN BTR0 and BTR1 configuration

CAN acceptance filter configuration

CAN 2.0A or 2.0B specific selection

Error code Responded selection

Easy test to transmit/receive CAN messages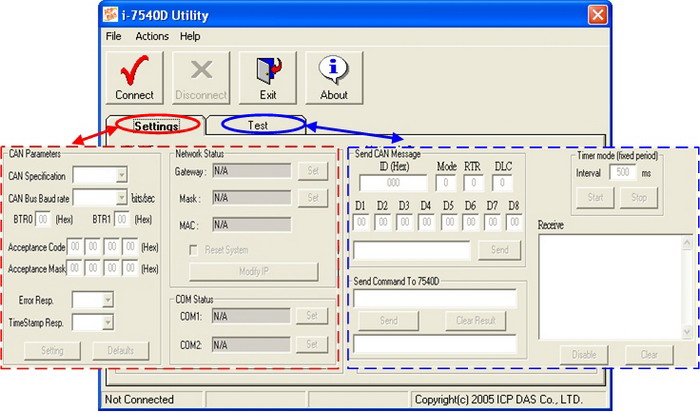 | | |
| --- | --- |
| | There are various communication interfaces among the CAN devices like PCI CAN board, Ethernet series and RS-232 series CAN module. According to different purpose of users' projects, the users maybe need to choice different CAN products. Because of this situation, the programmer should develop different communication program to handle different CAN device. For example, the user should develop "Socket Client" to communicate with I-7540. When using I-7530, the users need "UART" technique to communicate with it. Nowadays, ICP DAS develop the Virtual CAN technique. The Virtual CAN driver is the excellent tool for users. It transforms whole CAN devices into Virtual CAN port. And then it generates Virtual CAN port like "VxCAN 1" or "VxCAN 2". The users could send and receive CAN message by appointing the Virtual CAN port number. The users don't need to care about what kind of CAN device which is used. |
InduSoft Web Studio is a powerful, integrated collection of automation tools that includes all the building blocks needed to develop modern Human Machine Interfaces (HMI), Supervisory Control and Data Acquisition (SCADA) systems, and embedded instrumentation and control application.
In order to apply the field bus communication by InduSoft software, ICP DAS provides several field bus components such as CAN, CANopen, DeviceNet and so on, in the InduSoft driver. By means of these drivers, you don't need to have the complex and abstruse background of these field bus protocols. Only few simple steps can finish the communication between your PC and the remote devices.
PC Platform

File Select

WinXP / Win7

InduSoft CAN Driver (IDCAN) for PC/XPAC-8000 (The InduSoft driver list )

Supported Devices

CAN bus series

I-7530,

I-7530A,

I-7540D, I-7565, I-7565-H1, I-7565-H2, PISO-CAN100U, PISO-CAN200U, PISO-CAN400U, PISO-CAN800U, PEX-CAN200i, PISO-CM100U

CANopen series

PISO-CPM100U, I-7565-CPM

DeviceNet series

PISO-DNM100U, I-7565-DNM
PAC Platform

File Select

XPAC-8000 / XPAC-8000-Atom

InduSoft CAN Driver (IDCAN) for PC/XPAC-8000
(The InduSoft driver list )

XPAC-8000-CE6 / XPAC-8000-Atom-CE6

InduSoft CAN Driver (IDCAN) for XPAC-8000-CE6
(The InduSoft driver list )

WinPAC / ViewPAC

InduSoft CAN Driver (IDCAN) for WinPAC and ViewPAC
(The InduSoft driver list )

Supported Device

CAN bus series

I-8120W

CANopen series

I-8123W

DeviceNet series

I-8124W

The test is the performance which transfer 8 bytes data frame from CAN to Ethernet (one TCP client).

Transfer frames

Transfer time(ms)

Ethernet setting

Receive frames

Receive time (ms)

The max frames/sec

Data<8 byes/frme

ASCII command length

1,000,000

619,831

100M

1,000,000

619,871

1613

>=1613

22 B

1,000,000

662,432

100M

1,000,000

662,513

1509

>=1509

27 B
The test is the performance which transfer 8 bytes data frame from Ethernet (one TCP client) to CAN.

Transfer frames

Transfer time (ms)

Ethernet setting

Receive frames

Receive time (ms)

The max frames/sec

Data<8 byes/frame

ASCII command length

1,000,000

535,280

100M

1,000,000

535,618

1867

>=1867

22 B

1,000,000

563,170

100M

1,000,000

563,395

1774

>=1774

27 B

Hardware

EEPROM

16 KB; Data retention: 40 years; 1,000,000 erase/write cycles

CAN Interface

Controller

NXP SJA1000T with 16 MHz clock

Transceiver

NXP 82C250

Channel number

1

Connector

2-pin screwed terminal block (CAN_L, CAN_H)

Baud Rate (bps)

10 k, 20 k, 50 k, 125 k, 250 k, 500 k, 800 k, 1 M (allow user-defined baud rate)

Isolation

1000 V

DC

for DC-to-DC, 2500 Vrms for photo-couple

Terminator Resistor

Jumper for 120 Ω terminator resistor

Specification

ISO-11898-2, CAN 2.0A and CAN 2.0B

UART Interface

COM 1

RS-232

COM 1 Connector

5-pin screwed terminal block (TxD, RxD, RTS, CTS, GND )

COM 2

RS-485 (Self-turner inside)

COM 2 Connector

2-pin screwed terminal block (DATA+, DATA-)

Baud Rate (bps)

110, 150, 300, 600, 1200, 2400, 4800, 9600, 19200, 38400, 57600, 115200

Data bit

7, 8

Stop bit

1

Parity

None, Even, Odd

Ethernet Interface

Controller

10/100Base-TX Ethernet Controller (Auto-negotiating, Auto_MDIX)

Connector

RJ-45 with LED indicator

Power

Power supply

Unregulated +10 ~ +30 V

DC

Protection

Power reverse polarity protection, Over-voltage brown-out protection

Power Consumption

2.5 W

Mechanism

Installation

DIN-Rail

Dimensions

72mm x 122mm x 33mm (W x L x H)

Environment

Operating Temp.

-25 ~ 75 ℃

Storage Temp.

-30 ~ 80 ℃

Humidity

10 ~ 90% RH, non-condensing

| | |
| --- | --- |
| | Internet communication controller with one CAN bus, one RS-232, one RS-485 and one Ethernet |
| | Internet communication controller with one CAN bus, one RS-232, one RS-485 and one Ethernet (RoHS) |

| | |
| --- | --- |
| | wall-plug power Adapter/ 110VAC, 60Hz, 3.6W |
| | wall-plug power Adapter/ 220VAC, 50Hz, 3.6W |
| | 9-pin Female D-sub & 3-wire CAN bus cable (1M) |
| | 7/14 channel Surge Protector |